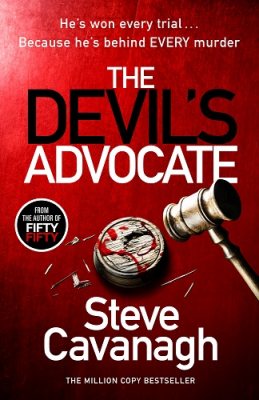 What was your first read of 2022?

Mine was Steve Cavanagh's The Devil's Advocate, the fifth book in the Eddie Flynn series, and one that I have been waiting for for two whole years! From the first chapter, I was hooked, line and sinker. The opening chapter has the reader being a fly on the wall in an execution chamber, one where a man is proclaiming his innocence, holding on to hope that he gets a stay before being seated in the electric chair. In walks the bad guy prosecutor, one that from our first introduction made my skin crawl and my teeth grate, Randall Korn A.K.A the King of death row – an absolute blood boiling evil character.
In swoons Eddie Flynn, New York defense attorney who is persuaded by a friend to take the case of Andy Dubois, who has been arrested and detained after the body of Alabama town sweetheart, Skylar Edwards, is found murdered. The prosecution? Yes, you've guessed it, that Korn fellow, is pushing for the death penalty – he's got the town wrapped around his little finger, with an unbeatable track record, we are sucked in to a crime thriller filled with a court drama aspect, an array of messed up characters, motives and of course a race against time as our man Eddie Flynn with his legal team piers, fight against Korn and all the pies he has his fingers in (this man won't stop at murder and bribery!) As the body count increases, the tension is suffocating in the way the best crime fiction reads are. Claustrophobic and suspense-filled, who will be steps ahead and will good prevail evil?
Steve Cavanagh uses his knowledge of the legal system, the court and probably aspects of his time with less desirable individuals to craft a nail-biting novel, one that will have you high from the adrenaline and leave you with hand cramp from holding the book so damn hard! The concept that the man in question was behind every murder, yet with a twisted, carefully crafted touch – mind blown! A fabulous example of why I keep coming back to the Eddie Flynn series for more, this book lover just can't help herself!
Fancy getting stuck in to this nerve-shredding novel?
You can purchase yourself a copy here!