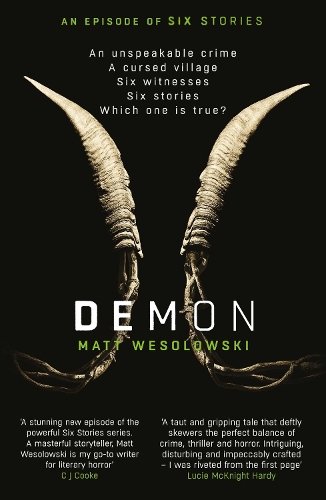 Did someone say Wesolowski Wednesday?
It'd be a shame to allow the last Wednesday pre-paperback publication to pass us by without taking full advantage of the #Orentober birthed hashtag, am I right?

As many of you know, I have fallen head over pages for Matt Wesolowski's Six Stories series involving written episodes (a.k.a Chapters) of Scott King's fictional podcast of the same name. Demon is the sixth book in this series, it's the sixth installment, containing six episodes where Scott King chats to six characters who exist on the outskirts of the case at hand – 666….. A celebration of the Prince of Darkness' exquisite ability to create a dark written space that will entrance his readers. With every book in the series, I become more of a fan-girl and today, I'm going to tell you why Demon has solidified that all over again.
Demon is available now in eBook format, with the paperback becoming available THIS Friday, you can order / pre-order it here directly from the Orenda Books online store. If you're an audiobook fan, may I suggest that you dive into the Isis Audio produced one available now, narrated by an array of talented narrators: Richard Burnip, Anne Dover, Kitty Kelly, Julie Maisey, Mark Milligan, Simon Mattacks, John Telfer and David Thorpe. Check out a sample (and purchase if you're inclined to do so) here.
Okay, okay, let's chat Demon.. I loved it, what I love about Matt's work is that when you delve into the core of his novels, there lies a spine of humanity, where aspects of the paranormal entwines around to create a storyline that leaves you asking questions after every episode – I felt that this kept the reader (in this instance me) flying through the pages, inhaling every word that Matt has written, hooked onto every characters versions / thoughts of events. The layering of the novel adds personality and emotive ambience to the plot, you can't help but fall deep into the way Scott King and his guests help to deconstruct the building blocks of this case, each chapter chipping away at the mystery surrounding the murder of twelve-year-old Sidney Parsons by two boys his own age. The 'Demonic Duo' embodied the evil of two certain child killers, so for me, the emotion was running high, and I completely understood and identified the way individual's around the village felt so angered by the case at hand – this is only one example of how Matt weaves humanity and captivates the reader with the emotion carefully injected with themes and characters.
With each book, Matt excels and develops as an author, with each installment I have a clearer picture of society and I am ALWAYS left with my jaw on the floor, astounded at the clever execution Matt takes writing and delivering his books. So, if you haven't already, jump on the Six Stories bandwagon!!