It's here, the day the whole Poe and Tilly fan base has had circled in red pen in their calendar for months! Publication day of the fourth book in the series written by MW Craven – get the streamers out, happy publication day! Thanks to Beth Wright and Little Brown Books for having me on the blog tour for this cracking read, as well as providing me with a proof for its preparation.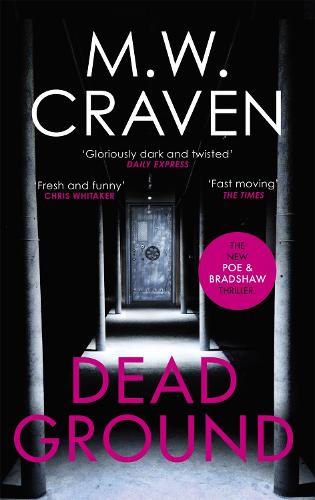 Title: Dead Ground
Author: M. W. Craven
Page count: 433 pages
Order link (non-affiliated): Dead Ground by M. W. Craven | Waterstones
I have loved every single book in the Poe and Bradshaw series, M. W. Craven's ability to constantly inject original darkness and thrill into his novels is outstanding, but coupled with the splashing of humour that you can find throughout the whole of Dead Ground took this installment up a notch for me. As always, I will begin with our protagonists, Washington Poe and Tilly Bradshaw, two elements of a friendship duo that you can't help but fall in love with. Tilly is a socially awkward genius, she's hilarious, a strong female character and the only person who can really put Poe back in his box, someone has to sometimes. On the flip-side, is Poe, tough, tactical and gruff but we see him let his walls down with Tilly, which is heartwarming and leads to some giggle-worthy occurrences. In Dead Ground we see them both being as close as ever, cementing themselves, yet again, as one of my favourite fictional duos ever. We also have some reoccurring and new characters included within Dead Ground, one or two who I would absolutely love to become a fixed feature!
Dead Ground is sinisterly twisted, etchings of a mystery are drawn from the first sentence, a tightly wrapped around mystery in which Craven keeps you hooked on until he is ready to reveal snack-sized pieces of revelations. With each question that arises from the case at hand, the deeper you feel yourself getting sucked into it – when Poe is given an opportunity to work closely (and relatively loosely) with a partnership, he, along with Tilly and others, begin to pick at the entangled threads of events, but will their findings throw more unanswered questions their way? With suspicions building along side a race against time, Dead Ground is an attention absorbing thriller that will have you flying through the 400-odd pages so you can see the bigger picture in all its glory.
Although I couldn't have asked for a better read, I was disappointed at only brief mentions of Flynn, I really enjoyed her increased presence in The Curator and had hoped that she would make a physical appearance, but I have my fan-girl fingers crossed that we will see more of her in The Botanist (the next book in this flipping great series.)
M. W. Craven has, yet again, written a nerve-shredding, brilliantly-plotted and witty thriller that will have your engrossed, goose-pimpled and chuckling. If you've not yet fallen into the world of Poe and Tilly, I highly recommend that you do, especially the audiobook versions!