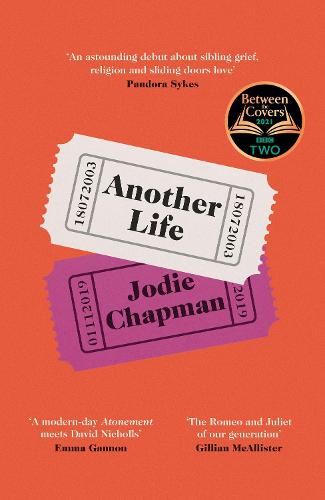 She could be the girl dancing on tables one night, and the next she'd be hiding in the shadows.
Just when I thought I understood her, she would melt away and become a completely new person, and I'd have to start all over again.
That's how it was with Anna.
Nick and Anna work the same summer job at their local cinema. Anna is mysterious, beautiful, and from a very different world to Nick.
She's grown up preparing for the end of days, in a tightly-controlled existence where Christmas, getting drunk and sex before marriage are all off-limits.
So when Nick comes into her life, Anna falls passionately in love. Their shared world burns with poetry and music, cigarettes and conversation – hints of the people they hope to become.
But Anna, on the cusp of adulthood, is afraid to give up everything she's ever believed in, and everyone she's ever loved. She walks away, and Nick doesn't stop her.
I am so excited to bring you my review of Another Life by Jodie Chapman today as part of the blog tour. This dazzling debut was published by Michael J Books on the 1st of April, so a whole month ago but hopefully after reading my thoughts, new to your TBR. Thanks to Ella Watkins for the tour invite and for kindly sending me a gorgeous hardback copy of Another Life in preparation of the tour.
Another Life is available to order at any great UK book outlets, but here's the Waterstones link just incase!
I was immediately drawn to Another Life by Jodie Chapman, especially when quoted as 'The Romeo and Juliet of our generation.' Not only is Another Life a love story, one that entwines complexity and dysfunctional family relationships, a novel that creatives a love story that is not straight forward but one that spans years, where Nick and Anna's lives come together before being drawn apart. The storyline is written from Nick's point of view, which begins on tragic circumstances. We delve into Nick's past and present, where we begin to understand the complex relationship Nick had with his father during his childhood years, how this relationship somewhat affects his own personal relationships and prospects for the future. Nick meets Anna while they're working at the same place over the summer, Anna is entrapped in a religion where she lives to respect her parents and her faith. The character's lives are somewhat, in certain areas mirroring of one another – dysfunctional family relationships, confused and lost on their paths, hoping to understand both themselves and what is to be expected of them. Magnetized to one another, their love spans years with a flair of hot periods, where they're attraction is consuming and raw. Not only is this a love that's true, but one that teaches the other life lessons they weren't aware they needed teaching about.
Jodie Chapman has drawn us completely into the lives of Nick and Anna. Firstly, I became lost in Nick's pain, the suffocation of feeling loss and slowly becoming aware of the life events that created his closed off persona, one where he doesn't allow someone to get too close – he's scared of letting the guard down around him, as well as that he holds around his heart. There is a reason for these barriers – the loss Nick has experienced since his childhood, the ways that piece by piece his heart has been broken and he has had to find the strength to build himself back up. Anna is character like that of Nicks, she is passionate, strong in her being, intense. She knows that family is her safe place, but who is she if she walks away and follows her heart?
I loved Another Life, I adored Jodie's ability to create a storyline that sinks into your heart with stunningly written words that pack a huge emotional punch. From the quote prior to the first chapter, Nick's life and story tugs the heartstrings and I felt myself slipping further into the pages. The chapters were a dissection into humanities greatest themes; love and loss, one that makes you think what you'd do, while also unfolding one of the most suspense-filled, warm love stories, a story that's profound and nostalgic. I highly recommend dipping your toes into this debut, grab a copy now!