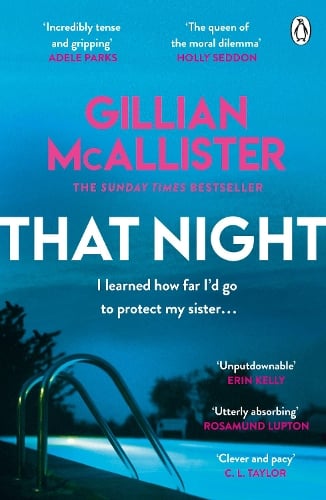 I read two books last weekend, that hasn't happened in a while and I am so glad that That Night, the new upcoming summer novel from one of my favourite authors Gillian McAllister was one of them. I am so thrilled and grateful to have received a proof of one of my most anticipated 2021 reads to read and review in advance of its release. Thanks to Jen of Michael J Books for the glorious copy, my increased coffee consumption Monday can be slightly blamed by your generosity and Gillian's exquisite storytelling. That Night is due to be published in a variety of formats on the 10th of June, you can pre-order here.
Gillian's books are always written with an injected moral dilemma included within the storyline, which is one of the many reasons that I adore her books, she draws you in to the characters lives while also encouraging you to slip into their minds – which then makes you question what you would do in their current situation. That Night asks the question what would you do to protect your family? Joe, Cathy and Frannie are siblings who are on vacation at their shared holiday home in Verona, when one night the bond they all share is tested to the limit and their relationship becomes tensed by a secret they must keep protecting one another. Gillian set the opening up perfectly when a sibling is in trouble, it is human nature to want to do everything in your ability to help them. This is where we first become aware of the dynamic of all three siblings, their individual personalities leaking through and grasping you. All three protagonists have been built into absorbing, faulted and three – dimensional characters, everyone intertwined into the other's personality to compliment that sibling connection.
After the spark of the initial events, we see the siblings trying to return to a life of normality, but we also experience how the guilt of their acts follows them home and worms its way into their personal relationships. I was fully captivated by the plotline, this was much more than a psychological thriller mixed with courtroom drama, that Gillian creates so well, but it was a microscopic analysis of family ties, relationships, and the impact of frayed edges on regular individuals, draped with domestic drama, revelations, and shocks along the way, That Night is an absorbing, compulsive and addictive read that I happily inhaled in under 24 hours!
What I also loved about the set up of That Night is the way that Gillian creates a dual time narrative which runs perfectly slotted in bitesize chapters amongst the chapters of the past, this created an extra layer of tension to the already taut novel that tied everything flawlessly together. Honestly, I cannot fault Gillian's writing, the way she alternates between characters and timelines are seamless, the plotline has clearly been cleverly planned, research and executed. I am, as always, in awe and a little breathless. My only regret is reading That Night so damn fast and there is another year until Gillian's next book is out – she's still my auto-buy author and if you haven't already, pre-order That Night and read her other books!