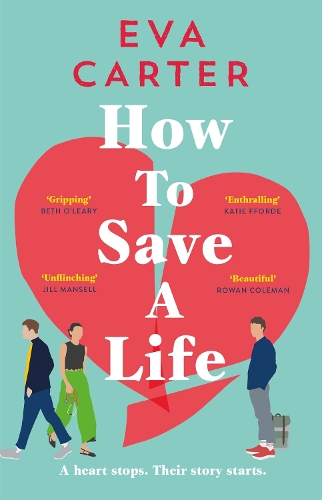 Sometimes saving a life is only the start of the story . . .
It's nearly midnight on the eve of the millennium when eighteen-year-old Joel's heart stops. A school friend, Kerry, performs CPR for almost twenty exhausting minutes, ultimately saving Joel's life, while her best friend Tim freezes, unable to help.
That moment of life and death changes the course of all three lives over the next two decades: each time Kerry, Joel and Tim believe they've found love, discovered their vocation, or simply moved on, their lives collide again.
I am so looking forward to How To Save A Life by Eva Carter being published so you can all read it and we can all talk about how special this debut book is. Publishing by Mantle Books on the 27th of May, this is a debut that you all need to get your hands one. Not only has Eva written a book that will wriggle its way into your heart with a collection of versatile characters, but could also teach you to one day save a heart and their person! Thanks to the wonder who is Rosie Wilson for sending me a proof copy to devour!
If this books sounds like a novel that could float your reading boat, you can pre-order a copy here!
Firstly, I'd like to tell you that How To Save A Life is a cleverly executed fictional novel that re-illiterates the importance of knowing basic CPR and first aid. Eva a.k.a. Kate wrote this book after her own personal experience, one that she felt should be shared and I couldn't agree more. At the back of the book, you'll find the four basic steps of The Chain of Survival which could help an individual survive a cardiac arrest. How To Save A Life isn't only a tale of three interconnected characters whom become entwined after a shocking, life changing ordeal, but it's also a to-do guide, one that has injected pieces of information included within the storyline. This isn't only a special kind of book, it can also be a life-saving one.
The storyline is a multi-narrative one, my favourite and Eva interconnects the threads of the plot so well, with each perspective smoothly flowing into the other one. Our protagonists Kerry, Tim and Joel have grown up aware of one another, attending the same school, living close to one another but not really creating a friendship. Joel is a jock; a football player and a no-go zone for Tim and Kerry who are cadets, and perceived as the school nerds who both have dreams of becoming doctors. Then one evening, as clocks strike midnight, all their lives are thrown off course and tied together.
The connection between the characters, as well as the building of the characters individually has been planned to a T, you understand their personal psychology and each one has their own sets of goals and ambitions. I really enjoyed Joel's character the most because I felt that he became more developed with a surprising layer of depth to his character, we become to understand that although he had his life saved and there is more purpose to life that he first expected. This book really makes you look towards yourself and review what the important things are in your own life, how miniscule they become when you look at the bigger picture.
Not only is How to Save A Life multi-narrative, but also multi-layered. We learn about the stresses and tribulations that those who work within the medical field suffer, the impact it has, not only on their own health but the strain of that stress on their personal relationships. This is visualized through the use of both Kerry and Tim's character's, whose life goals including a career within the medical sector. I think Eva planned and built upon the foundations of this novel carefully, taking into account every last detail which would create for a more absorbing storyline – and it worked! I was bowled over by How To Save A Life, and of course captivated by the sprinkling of heart that echoes through the whole book.
An intoxicatingly stunning novel about life, keep your eyes peeled for this one!