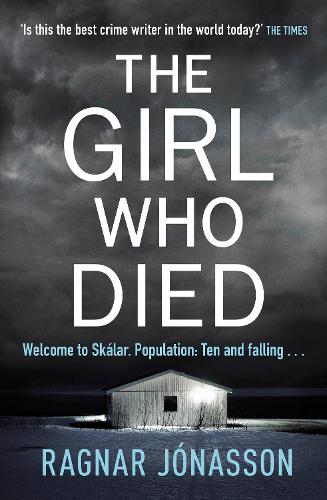 Una knows she is struggling to deal with her father's sudden, tragic suicide. She spends her nights drinking alone in Reykjavik, stricken with thoughts that she might one day follow in his footsteps.

So when she sees an advert seeking a teacher for two girls in the tiny village of Skalar – population of ten – on the storm-battered north coast of the island, she sees it as a chance to escape.

But once she arrives, Una quickly realises nothing in city life has prepared her for this. The villagers are unfriendly. The weather is bleak. And, from the creaky attic bedroom of the old house where she's living, she's convinced she hears the ghostly sound of singing.

Una worries that she's losing her mind. 

And then, just before midwinter, a young girl from the village is found dead. Now there are only nine villagers left – and Una fears that one of them has blood on their hands . . .
I am so grateful to be able to share my review of Ragnar Jonasson's upcoming Michael J Books release, The Girl Who Died which is due to be published in hardback on June 3rd of this year. Ragnar is known for his chillingly sinister Icelandic novels that mirror aspects of Agatha Christie and this newest read doesn't differ from those core but rather wraps a complex, claustrophobic and suspense-filled tale around it that left my jaw on the floor. You can pre-order a copy here.
Jonasson's writing is beautifully poetic with the air of darkness, captivating us to our favorite reading seat as the storyline begins to unravel. Una has taken a job as a teacher in a small village of Iceland with a population of 10, with all the space to breathe fresh costal air and to find herself after the death of her father, Una finds herself more suffocated than ever by a mystery that closely follows her arrival in Skalar. With hopes of detangling herself personally and finding herself, Una's interest peaks as she feels her fellow villages don't particularly want her in the area but she's not sure why. Set in a storm-battered location, with winds of chill and temperatures below 0, the weather isn't the only reason for the shivers. The Girl Who Died is tightly wound locked-in mystery that had me suspicious of everyone – what was going on?! Ragnar expertly ties the threads of the storyline together, including aspects that touch onto the paranormal side which adds a sprinkling of extra eeriness to the psychological thriller mix.
I fell into The Girl Who Died, with Jonasson's vivid penmanship and grace, I slipped amongst the pages of Una's story with ease. The characters have all been created with their own unique voice and mannerisms, there are some you become fond of and others that make your eyes roll. The setting is perfect and mirrors the feeling of the storyline to a T. The Girl Who Died is a psychological thriller that will leave you reaching for the blankets and jumping at all that goes bump in the night, while also reading in awe at the immense beauty of Ragnar's creation.
Thanks again to Michael J Books, and in particular Jen for offering me a review copy of The Girl Who Died in exchange for an honest review, I loved it!