It's that time of the week again, it's the second instalment of End Of World Books #Orentober edition AND my first one with a publisher, not just any publisher but one of our favourites… Have you guessed who yet? No? Well it's Karen Sullivan of course you 'nanas!
You can find Karen on Twitter at @OrendaBooks and Instagram @OrendaBooks
Karen founded Orenda Books in 2014, she was the former managing editor at Arcadia Books. In its first year of operations Orenda published six titles, increasing that to sixteen titles in its second year. The name Orenda Books was inspired by the title of the Joseph Boyden novel The Orenda and Sullivan's Canadian heritage: "The word itself – which loosely translates as 'the mystical power that drives human accomplishment' – is a nod to her Canadian heritage and a First Nations word whose provenance is a tribe that settled in a part of Ontario where Karen has spent every summer of my life.
I was absolutely thrilled when Karen agreed to share her end of world books with us, I did fear that her finger hovered over the block button after I asked her to choose only five books (you'll see in this post that Karen has an extremely loose definition of the number five!) but she came through and we are still pals (phew!)
I always link the books to a page where you can purchase yourself a copy, but remember people, you can support authors by loaning from the library too!
So Karen's chosen five, lets go!
---
Being a publisher, I can do whatever I want, so the first thing I would do is create an OMNIBUS edition called Orenda Books: Complete Publications. In other words, every single Orenda Book would be in there. It might be a bit heavy, but it would definitely come in handy as a weapon! Or something… (D: I have a feeling that Karen may need a pickup truck for this one, maybe i'll just let her take her kindle? If you want to check out ALL the Orenda Books that have been published so far, whizz over to the Orenda e-store where you'll find some bargains!)
---
Jane Eyre by Charlotte Bronte
Charlotte Bronte tells the story of orphaned Jane Eyre, who grows up in the home of her heartless aunt, enduring loneliness and cruelty. This troubled childhood strengthens Jane's natural independence and spirit – which prove necessary when she finds employment as a governess to the young ward of Byronic, brooding Mr Rochester. As her feelings for Rochester develop, Jane gradually uncovers Thornfield Hall's terrible secret, forcing her to make a choice. Should she stay with Rochester and live with the consequences, or follow her convictions – even if it means leaving the man she loves? 
My grandmother gave me a 1943 edition of Jane Eyre, which has beautiful wood-engraving illustrations throughout. It was her own copy and it's falling apart at the seams, but it's beautiful. One of my favourite books, and it reminds me of her! (D: There's even photographs of the book, look! Wow!)
---
Anne of Green Gables by L M Montgomery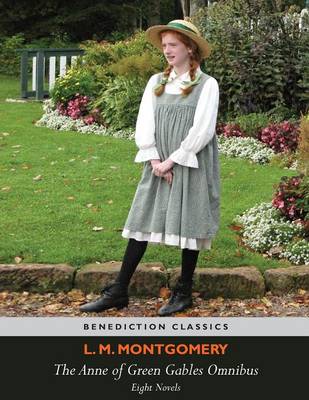 Marilla and Matthew Cuthbert are in for a big surprise. they are waiting for an orphan boy to help with the work at Green Gables – but a skinny, red-haired girl turns up instead. Feisty and full of spirit, Anne Shirley charms her way into the Cuthberts' affection with her vivid imagination and constant chatter. It's not long before Anne finds herself in trouble, but soon it becomes impossible for the Cuthberts to imagine life without 'their' Anne – and for the people of Avonlea to recall what it was like before this wildly creative little girl whirled into town
… again, I'd go for the omnibus edition (D: It's like 1100 pages Karen! You're definitely going to need a truck!), with all of the Anne books in the series in one volume. Although this is a children's book, it remains one of my all-time favourites and it was one of the first books I ever read alone. One of the best lines has become a sort of motto for me: 'Marilla, isn't it nice to think that tomorrow is a new day without any mistakes in it yet?' Perfect!
---
Collected Poems of John Keats by John Keats
'I think I shall be among the English Poets after my death, ' John Keats soberly prophesied in 1818 as he started writing the blankverse epic Hyperion. Today he endures as the archetypal Romantic genius who explored the limits of the imagination and celebrated the pleasures of the senses but suffered a tragic early death. Edmund Wilson counted him as 'one of the half dozen greatest English writers, ' and T. S. Eliot has paid tribute to the Shakespearean quality of Keats's greatness.
Totally sappy, but meaningful. When I was an emotional teenager, his poems really struck a chord with me, and I even wrote a poem entitled 'Ode to Keats' … long discarded in embarrassment. At university, I studied Romantic poets for one of my degrees, and wrote a dissertation on Truth and Beauty in Keats' poems (which I some extrapolated to include Heart of Darkness … don't ask…). When I decided to travel around the world, one of the things I wanted to do most was visit the Protestant Cemetery in Rome, where Keats was born. It took me twenty years to get there, but I finally did.
---
I can't even think of how to narrow it down to choose a fifth. A bumper book that would keep me distracted and occupied. Michael J Malone just introduced me to the Outlander series by Diana Gabaldon, and an omnibus of all of those would probably be perfect … romance, drama, war, peace, jeopardy, history. Or the complete works of Margaret Atwood. Or if things weren't too apocalyptic, the complete works of Stephen King? Or Carol Shields? One of those. You choose! D: guess what Karen, you can have them all, you exceeded the five books after 'boob' one so what's another twenty!
---
There you have it, Karen's end of world library and why she would not part with them… even to the extent to making up complete bookish works, but she's a publisher so her world, her rules!
Thanks again to Karen for taking the time to ponder her books of the apocalypse! It's been an absolute pleasure as always! What would your five end of world books be? And where can we get a bumper pack of Orenda reads??